new books and reviews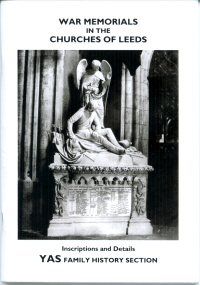 War Memorials in the Churches Of Leeds - Inscriptions and Details - Compiler Margaret Ford, YAS Family History Section, 2010, ISBN 978 1 903564 46 2; 60 pages, soft cover, A5 format.
This is the second book produced by Margaret Ford and her friends to help Family Historians who are searching for details from Leeds War Memorials.
Included in this volume are memorials from St. Anne's Roman Catholic Cathedral, Leeds Parish Church of St Peter, St John's Briggate, Holy Trinity Boar Lane, and the Unitarian Chapel of Mill Hill in City Square.
Some memorials have proved difficult to locate and others can be overlooked by the casual researcher. An instance of this is in the thirty one names recorded on the backs of chairs in the Lady Chapel of Leeds Parish Church.
Margaret Ford's first publication listed the details of those who gave their lives in the First and Second World Wars that are recorded on the official war memorials located in the cemeteries of Leeds
The book is available from the Family History Section bookstall at meetings or from our publications page on this site. The book costs £4.50 UK and £5.00 by airmail.
The collection of documents and information supporting this book on Leeds's Memorial Inscriptions has been placed in the Leeds City Central Library, Local Studies Department by the generosity of Mrs. Margaret Ford in December 2015.
Tracing Your Ancestors in County Records -

by Stuart A Raymond
Published by: Pen & Sword
ISBN: 9781473833630
Price £14.99 (£11.99 direct from P&S at the time of writing)
For a relatively short book, this publication packs an enormous amount of information into its pages. The chapters address various aspects of local life, explain many occupations and terminology, and explain the different courts and their jurisdictions over the centuries with brief, but always pertinent, descriptions of the scope of each and how these have changed or disappeared from century to century. Each chapter refers the reader to the various documents generally available to consult, what their general content is and shows how they can be used. There are further reading lists added at the end of each chapter and, where pertinent, publications worth consulting for specific counties. Sprinkled throughout are snippets of information, such as: informers reporting to Quarter Sessions, the building of a cottage on less than four acres of land; and did you know that itinerant sellers of corn, fish, butter and cheese were known as 'badgers'?
Specific chapters include those on Quarter Sessions; Paupers, Vagrants and Lunatics; and Religion; as well as addressing the roles of Sheriffs, Lord Lieutenants and Justices of the Peace. Coroners' records, trades and occupations, and other local government bodies are also dealt with in individual chapters.
This is an ideal book to 'dip into' for specific information when required. Reading it all through for review I found I was getting information overload. This is not a criticism. The book contains a vast amount of detail on county records, many of which I am sure, a great number of readers will not have been aware and which will be of enormous use to family and local history researchers alike.
Included is a section of Notes to all the chapters, followed by three short indices of place names, personal names and a subject index. There are also many black and white illustrations.
This is a fascinating book that helps the reader understand the construction of society in the past and how it operated and is well worth the price for the amount of knowledge contained within its pages.
Reviewed by Angela Blaydon, member of TNA Friends book reviewers; Family & Community Historical Research Society; West Surrey, Suffolk, Berkshire, and Bristol and Avon FHSs
August 2016
[This Review published by permission of the Federation of Family History Societies]
Historical Research Using British Newspapers
by Denise Bates
Published by: Pen & Sword
ISBN: 9781473859005
Price £12.99 (£10.39 from P&S at time of writing)
This book provides a general guide to using old newspapers along with practical advice on how to interpret the information collected for research.
Newspapers have now been around for more than three hundred and fifty years in Britain. The book begins with a brief history of the development of newspapers which have become such an integral part of society. But who will want to make use of such a book?
Those interested in political, economic, social and family history can find much that is relevant.
Denise Bates used old newspapers when researching for her first two books Pit Lasses and Breach of Promise to Marry. She shows how to prepare for research and how to find relevant material. For those wishing to take a more academic approach Denise has advice on how to collect data and how to collate it and interpret it. Methods include the use of Spreadsheets. Denise suggests you do not have to be an IT expert but with practise a researcher can make good use of databases and spreadsheets, however it is up to the individual how to use and interpret the information they collect.
Digitisation of many newspapers is one of the most recent and exciting resources for family historians in the twenty first century. It speeds up the researcher's work and can be a useful tool when used along with other Sources.
National newspapers such as The Times, The Guardian and The Observer are free to use from major public libraries. Many libraries also offer access to The British Newspaper Archive or Find My Past. Local or regional papers may also be accessible on microfilm at local libraries or from digitised versions on-line.
Family historians will find newspapers useful for the birth, marriage and death columns and perhaps discovering the part an ancestor played in society whether as an upright member or even disreputable one!
There are extensive appendices that include world wide websites, advice on how to publish the results of research and further reading lists for those who want to delve deeper into a subject. The inclusion of case studies demonstrating how others have used newspapers to aid their research and locate information not found elsewhere is a valuable addition.
As a family historian I found the chapter on Finding Material in On-line Newspapers the most useful. For those requiring guidance from an academic perspective the book has a great deal to offer.
Reviewed by Ron Pullan: Secretary of the Wakefield & District Family History Society
September 2016
[This Review published by permission of the Federation of Family History Societies]
---